Site Updated 05/06/2015
We are a family-run

retail plant nursery.
We have been growing

& selling an extremely

wide selection of plants

here in the Scottish

Highlands since 1979.
We have for sale
Alpines
Bedding Plants
Bulbs
Dwarf Conifers

Ferns
Grasses
Heathers
Herbs

House Plants

Perennials
Shrubs
And a few Trees.
The majority grown on

site with care & love by

Ben & Lesley

Rushbrooke.
We are not a Garden

Centre, so no tea room

or gift shop, all our

effort goes into

producing top quality &

excellent value plants.

The Met Office Local

Weather forecast:
Opening Hours
10am to 6pm. Monday to Saturday. March to Late October or by appointment.
We are near Poolewe in Wester Ross, in the remote & beautiful North West Highlands of
Scotland and 2kms north of the world renowned Inverewe Gardens.
See our directions page for details of how to get here.
Made with Xara
© Garden Cottage Nursery, 2015
Welcome
Tough and Beautiful plants grown in the Scottish Highlands.
Our Stock
reflects the prevailing conditions here, with lots of salty wind, high rainfall & fairly mild but

long winters, as well as lots of poor, shallow, highly acidic peaty soils. As such

conditions make some forms of 'conventional' gardening difficult & there is little readily

available information on how to grow plants up here we have written several

informational pieces to help customers get the most from their
gardens or just to know more about what make plants tick.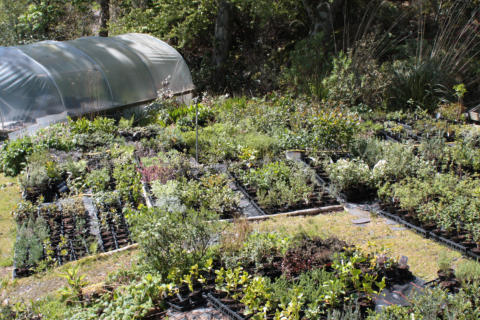 Amongst Our Stock
We have many

Brachyglottis, Hebe, Olearia

&

Ozothamnus.

We offer more varieties than
anyone else of

Olearia,

a genus of great variety and utility. We also offer much else

besides that is rare & unusual as well as some of the more run-of-the-mill old favourites.

Other popular specialities include the bog loving 'candelabra' Primulas

, Erythronium

for

the spring through to

Crocosmia

for the autumn.
Visit Wester Ross
Our nursery is located in a beautiful part of the country and is itself in a lovely sheltered

setting with the sales frames arranged around the garden. Surprisingly though we are

not all that is worth seeing hereabouts. When you are done here please follow this link to
a useful site to make people aware of what's going on and accommodation in our area.
Second Hand Books
Founder of the nursery Ron Rushbrooke now sells second hand books through the

internet and from

Ron's Book Bothy

upstairs in Poolewe Village Hall above his daughter

Alison's Button Bothy jewellery studio.

Gallery
Pictures speak a thousand words, and when it comes to describing plants those words

are mostly Latin jargon, so if you don't know your cordate from your palmate having a

picture helps. Nearly every plant that goes through the nursery gets it's photo taken, we

are uploading most of these plant portraits to the photo sharing site Flickr. We keep

adding more photos all the time and we regularly update the index here.
If you would like some free cut-out & keep desktop backgrounds? Here are

some pretty pictures for you. We've just added a couple more backgrounds.
Flickr Slide show
Click on play to see a seasonal selection of the images we have uploaded to the photo sharing site Flickr.
Double click on a picture to see the photo on our Flickr photostream, clicking the "Show Info" bar shows the

name of the plant & a description.
Garden Cottage Nursery On The Road
Throughout the warmer months Lesley has a stall at various local markets:
Poolewe Tuesday Market

- Every Tuesday in Poolewe Hall (also with books).
Next summer Lesley will also return to:

Ullapool Market

-
Generally Fortnightly, plus some extra weeks, on Saturdays,
in front of the Seaforth Hotel near the Ferry Terminal.
Dates for 2015 confirmed so far:
6th June, 20th June, 4th July, 18th July.
See some photos
Lochcarron Producers Day - in Lochcarron Village Hall the last Friday of each month:

26th June, 31st July.
Torridon Food and Craft Market - in Loch Torridon Community Centre Fridays
Torridon Community Centre's Facebook timeline has a nice photo from

the 13th Aug 2014 of Lesley by her stall.
If you want Lesley to bring you a particular plant e-mail or phone ahead on 01445781777
Searchable Availability List
Through much ham-fisted coding Ben has managed to make our regularly updated and

almost fully illustrated availability list searchable by name, cultural preferences and such,

so now you can see just what shrubs we have for windy wet and shady sites.

Please have a poke around and see what grabs you.
Recent Plant Name Changes Of Note
Advancing technology has given botanists a far better understanding of the true genetic
relationships between different plant. This has revealed that many plants that are
superficially similar looking, and as such were classified as related, are in fact not closely
related and need re-naming to reflect this.
Recent changes of note amongst plants we sell include:
Cortaderia richardii

--> Austroderia richardii - 'Toe-toe', a tough and adaptable large
grass often erroneously called a 'pampas grass'.
Delosperma congestum

--> Malotigena frantiskae-niederlovae - Now unpronounceably
named hardy South African succulent.
The majority of plants in gardens in the genus Aster have now been split off into several
new genera.
As most daisies have very small individual parts to their flowers finding distinctions can
be difficult and this has led to Asteraceae, the daisy family, historically having
comparatively few genera with large numbers of species in many of these genera.
The first of a genus to have been named is known as the 'type' and it is the standard to

which all others must be compared. The European

Aster amellus

is Aster's type species.
Recently

Aster

has been scrutinised and from a peak of 500 species in the 70s, current

indications suggest just 152 should remain in

Aster

, mostly Eurasian species, but expect

further trimming in coming years. Most of the "Asters" that we grow in gardens, like the

classic 'Michaelmas Daisies', originate in America and are no longer considered to be in

Aster

. The commonest garden varieties belong in the catchy named genus

Symphyotrichum

. Click here for a wee table showing the names for some commonly

cultivated types.
Ron's Book Bothy
Shop
The short winter days and inclement weather have afforded Ron time enough to set up an

ebay shop to offer up various treasures from his vast stock of books, maps, postcard, and

various other bits, bobs and curious that come his way. Click the logo on the left to take a

shufti.
Flaming June
So it's June and the weather is still freezing, wet and windy. We had the worse weather for a
May that anyone can remember and June hasn't started much better. Still at least the days
are long and everything has plenty of water to grow.
Dodecatheon pulchellum
'Red Wings'
Chaerophyllum,

fern and

Euphorbia
Trillium erectum
Summer Bedding Plants
Rhodohypoxis
New Steps Built to Replace Those
Destroyed By The Loss Of Our Huge
Birch Tree In A January Storm
Calendula officinalis

Calypso Orange
The lumpy flowered dainty woodland
prennial

Uvularia perfoliata
Linvingstone Daisies
Lewisia cotyledon

hybrids
Primula pulverulenta
Rhododendron yakushimanum 'Koichiro Wada'
Rhododendron

'Sneezy'
Myosotidium hortensia
The pond is surrounded by Primulas and Irises
Summer Bedding Plants Now In!
We now have a great range summer bedding plants on sale. There's masses of colours

and forms, from riotously flashy to classy pastels. Lesley has been busy making up lots

of ready planted containers and hanging baskets for time-poor customers.
On 25th April Nepal was devastated by a
massive earthquake, thousands lost their
lives, countless people are homeless and the
countries infrastructure is in ruins.
The wonderful wild flora of Nepal has
contributed so much to Western gardens, so
please show our appreciation in their time of
such dire need for help. Click on the image to
the left and give whatever you can to the
Disasters Emergency Committee Appeal.
Veg Plants Now In!
Come now for packs of brassica seedlings, mixed salad, as well as pots of tomatoes,

chillies (hot as well as sweet) and strawberries.

We also have a vast selection of culinary herbs to enliven your veggie dishes.