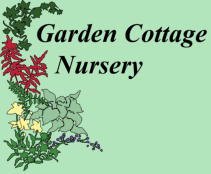 Tough and beautiful plants
grown in the Scottish Highlands
Welcome
We are a family-run retail plant nursery.
We have been growing and selling an extremely wide selection
of plants here in the beautiful and rugged Scottish Highlands
since 1979.
We have for sale:
Alpines, Bedding Plants, Bulbs, Dwarf Conifers, Ferns, Grasses,
Heathers, Herbs, House Plants, Perennials, Shrubs, And a few
Trees.
The majority of our plants are grown on site with care and love
by Ben and Lesley Rushbrooke.
We are not a Garden Centre, so no tearoom or gift shop, all our
effort goes into producing top quality and excellent value plants.
We offer an unmatched range of plants suitable for the West
Coast of Scotland.



© Garden Cottage Nursery, 2016

Founder of the nursery Ron Rushbrooke now
sells second hand books through the internet,
on ebay and from Ron's Book Bothy upstairs in
Poolewe Village Hall above his daughter
Alison's Button Bothy jewellery studio.
Ron's Books can be found on ABE Books and
at his ebay Store.


Spring Has Sprung, You Can Tell By
The Snow
As we enter the second half of April the North
Wind has returned and snowy showers remind
us that we live at the same latitude as St
Petersburg. In-spite of the cold all manner of
plants around The Nursery are looking lively
and colourful regardless.



Flickr Slideshow
Click on play to see a seasonal selection of the images we have
uploaded to the photo sharing site Flickr.
Double
click
on
a
picture
to
see
the
photo
on
our
Flickr
photostream,
clicking
the
"Show
Info"
bar
shows
the
name
of
the
plant and a brief description of it where we've written one.

10am to 6pm. Monday to Saturday. March
to Late October or by appointment.
We are near Poolewe in Wester Ross, in the
remote & beautiful North West Highlands of
Scotland and 2kms north of the world
renowned Inverewe Gardens.
See our directions page for details of how to
get here.

The prevailing conditions in our area is lots of
salty wind, high rainfall and fairly mild but long
winters, as well as lots of poor, shallow, highly
acidic peaty soils.
'Conventional' gardening difficult here and
there is little readily available information on
how to grow plants in our conditions. So we
have written several informational pieces to
help customers choose the right plants.

Throughout the warmer months Lesley has a
stall at various local markets:
Poolewe Tuesday Market

- Every Tuesday in
Poolewe Hall (also with books).
Ullapool Market

-
Generally Fortnightly,
plus some extra weeks, on Saturdays, in
front of the Seaforth Hotel (30th Apr, 14th
May, 28th May)
Lochcarron Producers Day - in Lochcarron
Village Hall the last Friday of each month
(29th Apr, 27th May).
If you want Lesley to bring you a particular
plant e-mail or phone ahead on 01445781777




Click the logo to see our Facebook page. We'll
try to post to it fairly regularly to let everyone
know what were up to.




Anemone, Berberis, Caltha,
Dicentra, Erythronium, Fritillaria…
Soooo many lovely flowers out now, many of
our personal favourites among them. Please
come and visit and see them yourself.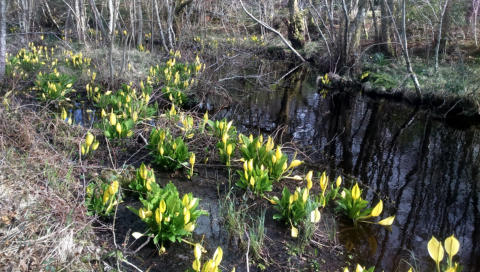 Lysichiton americanus,

the Western Skunk Cabbage, has
recently been added to the list of banned plants. Spring visitors to
the Nursery can see why with, the banks of the small river along
our driveway liberally covered with this North American escapee.

Grow-Your-Own enthusiasts can now pick
from a selection of young veg plants including
brassicas, tomatoes, courgettes, strawberries
and more.